Lindy What?! December 2022 Newsletter
Dear Lindy Hoppers,
Ah the holidays, time for reminiscing, questionable alcohol usage and Ella's & Louis's Holiday album. We want to take this opportunity to thank everyone of you for making the past year the year of our own little post-pandemic Lindy Hop revival in Nijmegen! It was great to see you all slowly but surely putting on your dance shoes again and find your way to our lessons and socials. This really gave us the energy to put the effort in to start rebuilding, and start a new chapter for Lindy What?! Lindy Hop Nijmegen!
Next year we want to take the next steps in that same direction and in the spirit of this we have a number of cool announcements:
New teacher!
After a few years living and teaching Lindy Hop in Oxford (amongst doing other things of course! 😀 ), John has returned to the Netherlands and will be teaching with us! As some of you already know, John is one of the Nijmegen OG's when it comes to Lindy Hop and dancing in general. With his ambi-dance-trous approach and creativity, he will add a lot of new energy and knowledge to our club!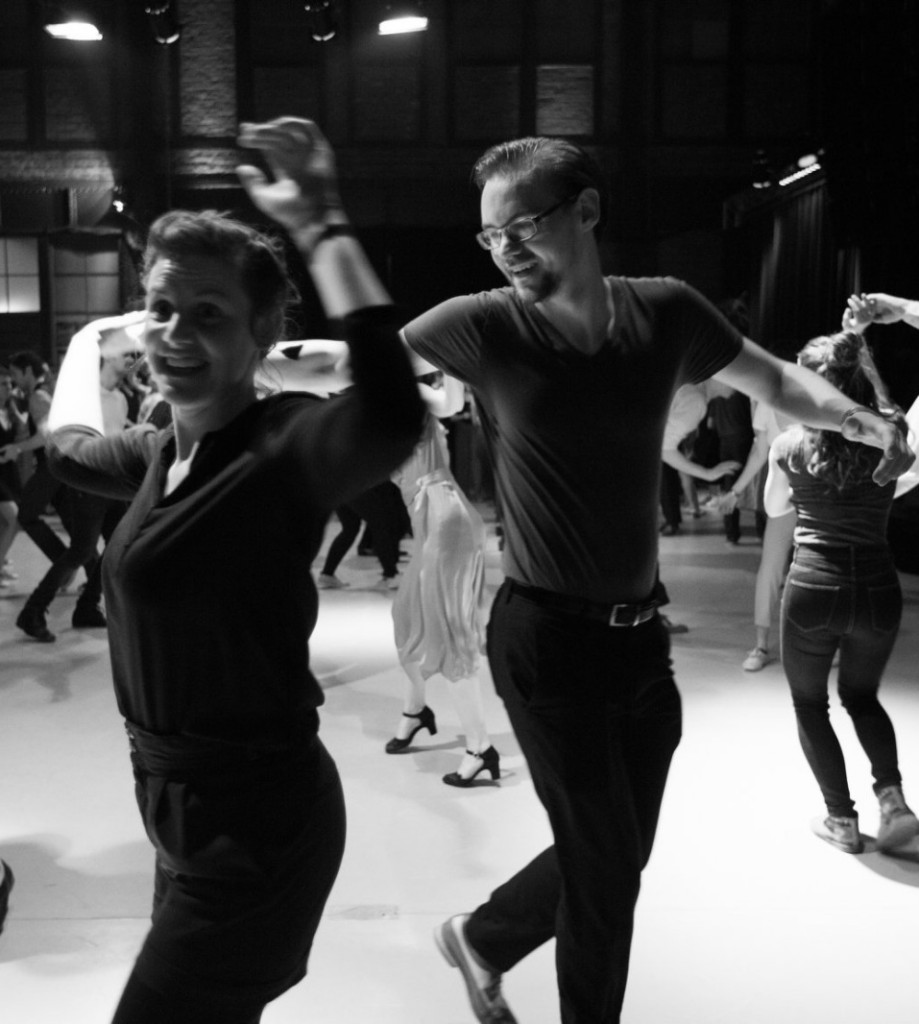 Themed classes with guest teachers!
Since we think diversity is the spice of life (and got a lot of great feedback from last blocks evaluation in terms of other styles), we are working on themed classes and workshops with guest teachers for the coming block of classes! This will include solo jazz classes, fast Lindy, blues/slow lindy and charleston. Some of these will be integrated in your normal Lindy A, B and C courses, and some will be open for everyone to join, but we're still working out the details, so stay tuned!
Themed lesson by Renske!
Since we're very excited about all this we were already able to do this once this block and have Renske return for an awesome themed class in our C block in January!
Holidays
As most of us will be preoccupied by overeating and singing Holiday songs, we will not have classes on the 23rd and 30th of December. Also, there will be no NimmaHop! in January because of this.
Upcoming events
February 5th 2023 – NimmaHop!
Video of the month
Normally we are a big fan of improvisation and social dancing videos, and showcases kind of show off the exact opposite of that. However, since we had the surprise of a Lindy Hop proposal by two of our members recently at a social (and the writer of this newsletter is a total Anthony Chen fan), we feel this video is justified:
Did you know…
Pien may or may not have a "brulshirt"?
Marcel still doesn't believe it?
Simon and Bonny will be teaching a Lindy Hop workshop at Radboud University?
Bonny stresses this is a one time deal, and we shouldn't get any ideas? 😉
the writer of this newsletter is having way too much fun with this cheesy section?
more and more of our new students are visiting socials all over the Netherlands now?
We're super excited about this, as this is one of the most fun aspects of Lindy Hop?
There is a community Whatsapp group specifically ment for organizing trips to socials, sharing rides etc?
We wish all of you a swingin' 2023! <3